* Customer
Satisfaction
* Specialize
in high
production

* Quality
Control
* Computer
Controlled
Production
* Competitive
Prices

* Experienced
casting
Company
* Largest
Aluminum
foundry in
Los Angeles, Ca

* From 0-4000lbs
castings

* In-house
toolmaker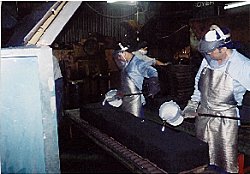 Quality. Value. Service.
Over 18 years of experience supplying aluminum casting to domestic and International customers. We have the experience you are looking for in your product application. H&M Foundry has been making castings in the Los Angeles area for many different companies from skateboard axles, telescope fixtures, aircraft parts, racing car calipers and many more. Quality is our first priority, because we know that our reputation is on the line. Through out the years we have earned the reputation of a reliable source for aluminum casting. In today's fast pace world the demand for castings are high so we offer very competitive prices, quality service and on time deliveries. We have a building with 40,000 sq. ft. of land equipped with the latest foundry equipment to be able to provide you with the best castings. Our company is committed to excellence and are willing to do what it takes to earn your business. Our expertise is in aluminum alloys for green sand and permanent mold process. We have our own tool makers and work very close with them to make your design a success. We also offer special services like heat treat, sandblast, x-ray, deburring and many more if your castings require them. Our foundry experience and production capabilities enable us to provide you with outstanding service. We are a very hard working foundry so let us be a part of your success. H&M has been pouring aluminum alloys for many years now and pride our selves to try to be the best in the industry. Thanks for taking the time to read about us and hope we have convinced you that we are your source for ALUMINUM CASTINGS. Below is our mailing address and location with our e-mail so you can get in touch with us.
Permanent Mold Casting
"Quality castings since 1980"
Location:
5615 Leeds St.
South Gate, CA 90280
Phone:
(562) 622-1936
Fax:
(562) 622-1956
E-mail:
claudia@hmfoundry.com
Operations:
Claudia Hernandez